Preparing your baby registry list? Looking for a baby shower gift? Take a break & check out these crazy Amazon products for a quick laugh. Then find inspiration from many gift ideas & recommendations!
Yes, these are all really available to add to your Baby Registry Checklist on Amazon.com!
These items should never be included on your own baby registry checklist. If you see any of these on a friend's baby registry list, you will want start coming up with excuses now to avoid the baby shower.
[wpcol_2fifth id="" class="" style=""]
[/wpcol_2fifth] [wpcol_3fifth_end id="" class="" style=""]
For the mom-to-be who loves showing off to her friends & neighbors.
Be warned, there is some debate within the Customer Reviews about the quality of the diamonds, so you may want to investigate the cut, clarity and color.
The only time this gift may be appropriate for a baby registry list is when Paris Hilton is pregnant (scary thought!).
Make sure you take advantage of the seller's special offer – save $5.00 when you spend $49.99!
[/wpcol_3fifth_end]
[wpcol_2fifth id="" class="" style=""]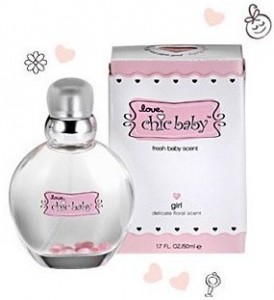 [/wpcol_2fifth] [wpcol_3fifth_end id="" class="" style=""]
Perfume for a baby!
Marketed as the "Ultimate in Luxury and Style".
With Madonna & Tori Spelling listed as clients it could be branded the Ultimate in Wacky & Tacky!
Don't worry – they offer a scent for baby boys too!
[/wpcol_3fifth_end]
[wpcol_1third id="" class="" style=""]
[/wpcol_1third] [wpcol_2third_end id="" class="" style=""]
We've all seen parents using these and had the same initial reaction – that kid looks more like the family pet.
Below are excerpts from positive Customer Review comments:
* This leash is okay, it does the job but my son hates it.
* The neck straps could have more cushion, as they press and dig into the child's neck if he falls or tries to hang on the leash.
* My son's not thrilled about being tethered.
* Allow the child to become accustomed to the harness BEFORE going out in public — take the child for walks around the house or in the yard.
[/wpcol_2third_end]
[wpcol_1half id="" class="" style=""]
[/wpcol_1half] [wpcol_1half_end id="" class="" style=""]
A $35 saddle for dad to wear while he gives horsey rides. How have the generations before us been able to make horsey rides fun without this amazing product?
If you buy this for your friend, chances are they won't be your friend for very long.
Better yet, buy one for grandpa too – that should go over really well.
[/wpcol_1half_end]
MORE:


Scattergories Cards
Want me to send you these baby shower scattergories cards?